Discover Jewish India with us
Jewish India Tours is an inbound travel boutique company with decades of experience in arranging Jewish tours of India. We provide friendly, professional and individualized service with an insider's perspective. Experience India with all five senses with us.
Discover Jewish India Tour
Feb 2021
Learn about the intriguing history, culture and customs of the Jewish communities of Mumbai, Cochin, and Delhi. Eat, pray, and mingle with members of the community. You will visit world-renowned architectural sites, explore famous markets that entice your senses, and experience local customs along narrow urban streets. Explore Indian history and culture and delve into 2,000 years of Jewish life in the world's most populous democracy.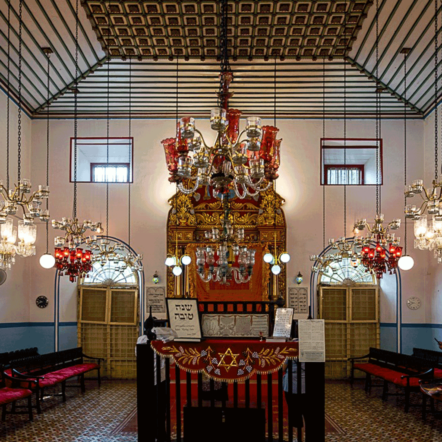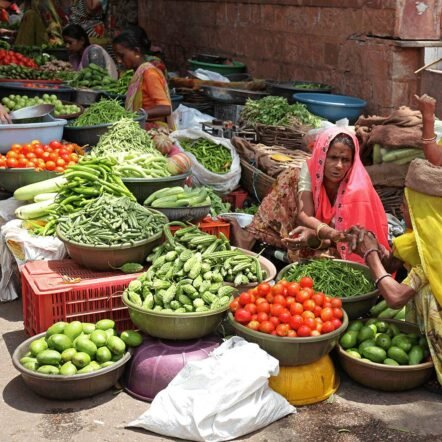 Discover Jewish India Tour
Mar 2021
Delve into Jewish architectural delights, historic synagogues, Jewish structures and sites of importance across far-flung and remote parts of India. Throughout this journey, you will meet members of local Jewish communities to hear their stories firsthand, and visit the synagogues and community institutions that have played an integral role in Jewish life in this fascinating country.
Make your perfect custom tour with us. Share your interest and number of days available in hand and we will create a tailor made itinerary for you. These are a few sample itineraries that can be customized as per your requirement.
Life Changing Trip
Carmella
Joshua worked closely with me to plan a trip of a lifetime for my family. We landed in a Delhi and went to Agra, Jaipur, Mumbai and Goa snd back to Mumbai. Every step of the trip was planned, every detail taken care of by Joshua. We stayed in exquisite hotels and had very knowledgeable guides throughout! We especially enjoyed our visit to the Taj, Elephant ride to a palace in Jaipur, tour of Jewish Mumbai, visiting Bene Israel memorial on coast including synagogues, and then gorgeous goa. Our family fell in love with India and we would go again with Joshua and his team in a heartbeat!! Joshua and his wife Hannah are exemplary caring people who ensure that your trip is meaningful and full of beautiful memories.
Perfect trip through Delhi, Agra, and Rajasthan
Adam Lee Jacobi
I have only great things to say about our week-long tour of the Golden Triangle. For context, it was scheduled for the weeks before the 2020 lock-downs started taking effect in earnest around the world. Ritu and the rest of the organizing staff were wonderfully proactive to make sure that all four of us had a wonderful time. Although we didn't meet Joshua in person, we had three other amazing, fun, and informative tour guides on our trip. One in particular, Dilip, went above and beyond to give us a memorable Holi celebration at a time when large public events were unreliable due to the pandemic concerns. I'm very thankful to everyone!
We just spent 2 days touring Mumbai with Hanna. We couldn't have hoped for a better experience! If I lived in Mumbai I would want Hanna as my new best friend! She was delightful to be with, very knowledgeable and professional, and extremely accommodating, adding sights to our trip last minute as we asked about them. She was so warm and caring, making sure we were comfortable and had water. We felt we received such a personal insight into the Jewish community of Mumbai Hanna was so informative and ready to answer any questions we had. She was equally flexible and informative on our day tour of other sights in Mumbai. Hanna, we cant thank you enough for such amazing experiences !
Fabulous trip to India
Jeremy Phillip Wilson
We just returned from a 10 day trip to India. We were in Mumbai Udaipur Jaipur Agra and Delhi. Thanks Joshua and Ritu for so perfectly orchestrating this whirlwind trip to this unbelievable country.
Joshua is the best guide! We spent one week with him around Mumbai and could not have asked for a better experience. He took us to great sites and places to eat, is extremely knowledgeable, and is one of the kindest people I've met. There is no better way to see Jewish India!
Joshua is the man
Isaac K.
Joshua is a native of Mumbai and knows his city really well. Being a Jew, native to Mumbai, is a huge treasure to have when touring. He knows all of the spots and then some and can take you to really cool places you could never go alone or without his connections. On top of his expertise, he is just a joy to be around and he is one of the best tour guides I've ever used anywhere in the world!!
Took a private tour for 2 people with Jewish India Tours last week. Our guide was Joshua. I have visited 103 countries and taken many tours and can honestly say that this tour was one of the best ever. Joshua, being Bnei Israel himself, was very knowledgeable and full of personal insights into the Jewish history of Mumbai. The tour was supposed to take 3 hours but in fact ended up being nearly 6 hours and the time passed too fast. Joshua was very responsive and accommodating..... when he learned that my partner was a fashion designer he took us to see the home of celebrated local fashion designer and amateur chef James Ferreira - we met the him and it was fascinating. If you want a great tour with a local guide with personal insights, then I wholeheartedly recommend Jewish India Tours and Joshua.
Mumbai Jewish Tour
Mark Gennerman
The tour of Mumbai with Joshua was absolutely amazing. Not only did we view the Jewish sites of Mumbai, we received a detailed and interesting lesson in the Jewish history of Mumbai that was engaging to us as parents but also to our three teenage children. In addition, we were shown Mumbai's main tourist sites as well. We lunched at a fabulous Indian restaurant and were introduced to Thali. Super delicious! We all learned so much and had a fantastic time as well. Thank you Joshua for a memorable day!
An Extraordinary Tour
Tamarsinger
I used Jewish India Tours in both Mumbai and Cochin, they were the highlight of my trip to India. We visited offbeat and fascinating spots that were unavailable to the public at large. In each place my guides knew people who let us into their homes, or private establishments. Both were extremely knowledgeable about history, with Jewish history in India especially fascinating. Hanna and Saju were prompt, helpful, pleasant and delightful. The drivers were equally skilled ( not easy, especially in Mumbai) and the cars stayed cool despite the heat. They even supplied water!! I highly recommend this tour company.
Joshua is the BEST! He was my group's tour guide for an entire week through India and every day got better than the next - incredibly knowledgeable, passionate, committed, engaged and warm, he made the experience come alive that much more. He's also an absolute gem of a human. Can not recommend him highly enough.
Joshua is the Best!
Melissa S.
Joshua is the best!! Full of knowledge and warmth, he showed us India and was an incredible guide. He has a special way of leading a group and sharing information and his passion for his country shines through. We had a larger group and he became family to us all. If you are traveling to India and want to learn about the country, and in particular the Jewish community, definitely book Joshua and his company!!
Amazing guide and human
Virginia C
I got the pleasure to spend a week with Joshua and his Wife Hannah as they toured us, a group of 30, around Mumbai. Joshua is so knowledgeable on Indian culture, religion, politics history, politics and idiosyncrasies! He truly loves sharing his wisdom. So honored to have learned from him! He gave us a unique insight into Judaism in India! Can't recommend enough! Thanks a lot!
Joshua and Hannah are awesome
Yiqing S
We had an 8-day group tour in Mumbai and Ahmedabad with Joshua. He's so super friendly, knowledgeable, fun, takes care of people, and has killer dance moves! He also speaks Spanish! I lost my bag at Ahmedabad airport, almost lost my passport in Mumbai, and he was trying so hard to help me talk to the hotel, airline, and airport staff. Super helpful and doesn't think I'm a troublemaker 😀 Highly recommend!!
Joshua was the best Guide
Sarah
Seriously have never fallen in love with a guide like I did with Joshua. If you are big group and lucky enough then you will get his wife Hannah as well. They are a dynamic team. Anybody looking for deep dive adventure full of love will hire them. Especially the Jewish community.
Unforgettable Trip
Fernanda
Joshua organized the most wonderful trip for us to Nepal and India. He looked after every detail, was there for us when we had a flight issue (nothing to do with him), showed us sights most trips don't see, and we learned so much from him and all the guides he provided for us. He and his wife are outgoing, knowledgable people - just a delight to work and travel with. Nothing was too difficult and organizing the trip was effortless on our part - they were always available, helpful and experienced. Definitely recommend Jewish India tours.
Couldn't have done it without you!!
Orlimoss
I have just returned from a week in Mumbai and Kochin organized by Jewish India, and guided by the amazing Hannah. The whole week was seamless, food was far better than I would have imagined, we met interesting people and visited all the key sites. There was just the right balance of guiding and letting people just take things in, on their own. Hannah our guide was engaging, and knowledgeable and a delightful human to spend time with. Can't wait to go back for more. Thank you!!