Discover Jewish India with us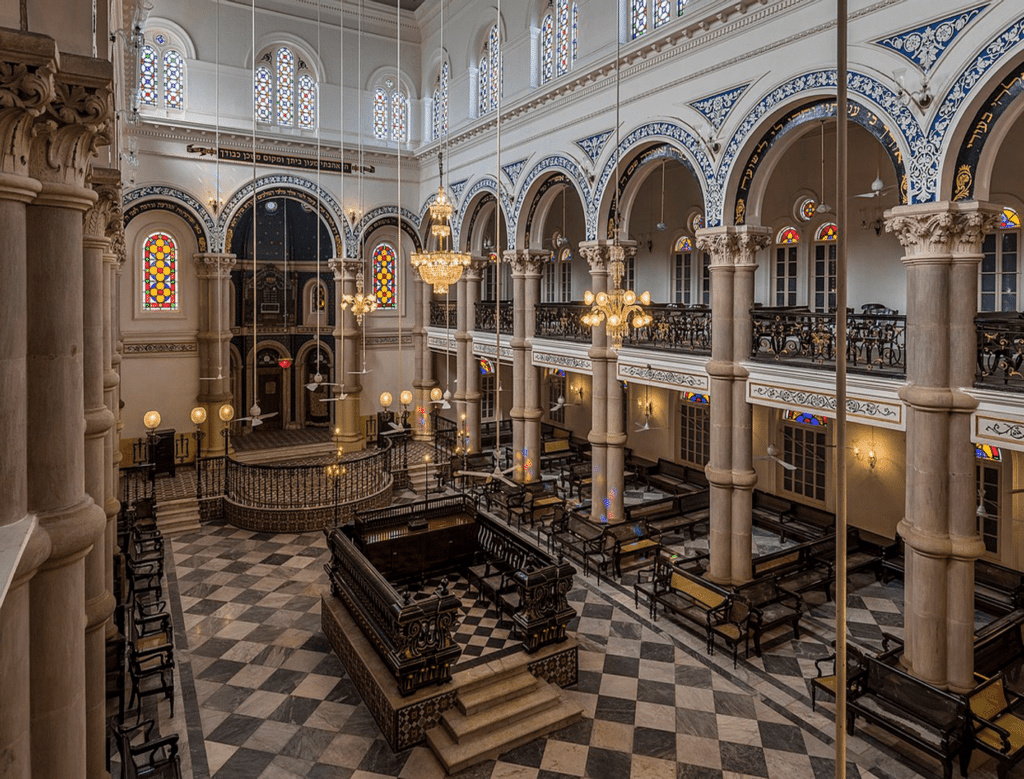 Jewish India Tours is an inbound travel boutique company with decades of experience in arranging Jewish tours of India. We provide friendly, professional and individualized service with an insider's perspective. Experience India with all five senses with us.
Learn about the intriguing history, culture and customs of the Jewish communities of Mumbai, Cochin, and Delhi. Eat, pray, and mingle with members of the community. You will visit world-renowned architectural sites, explore famous markets that entice your senses, and experience local customs along narrow urban streets. Explore Indian history and culture and delve into 2,000 years of Jewish life in the world's most populous democracy.
Learn about the intriguing history, culture and customs of the Jewish communities of Mumbai, Cochin, and Delhi. Eat, pray, and mingle with members of the community. You will visit world-renowned architectural sites, explore famous markets that entice your senses, and experience local customs along narrow urban streets. Explore Indian history and culture and delve into 2,000 years of Jewish life in the world's most populous democracy.
Delve into Jewish architectural delights, historic synagogues, Jewish structures and sites of importance across far-flung and remote parts of India. Throughout this journey, you will meet members of local Jewish communities to hear their stories firsthand, and visit the synagogues and community institutions that have played an integral role in Jewish life in this fascinating country.
Day Tours for Cruise Ship Passengers
Make the most of your shore excursion with our customized private tours and explore the city at your own pace. Our knowledgeable licensed guides will ensure that you get the real taste of the city and a Insider's perspective. Travel with us worry free as we will drop you back at the cruise ship terminal on time. We offer exclusive city tours of Mumbai, Cochin & Goa.
Make your perfect custom tour with us. Share your interest and number of days available in hand and we will create a tailor made itinerary for you. These are a few sample itineraries that can be customized as per your requirement.
Slide
Kosher Jewish experience without comparison!
As I sit in the airport lounge in Singapore, I reflect on our Indian holiday. We arrived in New Delhi just 10 days ago. We had no idea who (Jewish India Tours) JIT was. We had spoken once with (Mr) Joshua the owner and had corresponded many times with Ritu and Joshua in the office fine tuning our itinerary. We were a little apprehensive about landing in New Delhi. What would the service be like? What would the hotels be like? 10 days later we are happy to report that everything was perfect. 5 stars doesn't tell the story. I could talk highly about the hotels (all top notch), I could talk about how knowledgeable the tour guide (Rachit) is. I could even talk about how safe and accommodating the driver (Mintoo) is. The car was spotless. The bottled water ever present. Nothing was too much.I could tell you how they recommended itinerary changes to suit my special Jewish needs and Kosher eating habits. I could tell you how they shipped Kosher Chabad food perfectly and on time to each and every hotel we stayed in. (They even arranged new pots and pans so that a cooking demonstration with vegetables could be Kosher). What I cannot verbalise is the warmth, the friendship and the genuine care felt. This is not something tangible. It is also something rare. JIT has a secret sauce for making you feel special and like family all at the same time.We recommend JIT to you.
Slide
Brilliant and very thoughtful planning with amazing attention to smallest details. Better than best!
Absolutely superb attention to detail . A full itinerary made effortless for us. Guided tours were an absolute joy and their explanations compelling. Flexibility during the trip was never a problem. All logistics including internal transfers and hotel check in were a breeze . A complicated itinerary made so easy and relaxing. Would recommend with flying colours anyone that to use them.
Slide
Jewish India Tours is a Gem that we found
I was so fortunate to come across Joshua and Jewish India tours on Tripadvisor. We have taken many organised holidays by highly reputable UK travel agents, but Joshua beat them all, both in organisation skills and price. From the moment we spoke, there was a connection and it was the most organised tour and holiday we have experienced. Joshua's attention to detail is incredible. We discussed in detail what we would like to see and do and it was tweaked until it was perfect. When we arrived in India, every accommodation was beautiful as if he knew it would suit us personally. The tour guides were both very informative and all became our friends. From Vijiyant, to Lakshi and Hanna, we were compeltely spoilt. I was originally looking for Jewish Heritgage tours, but Joshua explained he could do the hotel bookings and all the drivers and tour guides. What a find!! He anticipated our every need and if there were any little details that were needed during our holiday, Joshua was there to sort it out. I only wish we could take his service all over the world. We loved India, we went from Delhi, to Kerala then onto Mumbai. I would highly recommend Jewish India Tours, it comes with that personal touch. Thank you Joshua.
Slide
Joshua worked closely with me to plan a trip of a lifetime for my family. We landed in a Delhi and went to Agra, Jaipur, Mumbai and Goa snd back to Mumbai. Every step of the trip was planned, every detail taken care of by Joshua. We stayed in exquisite hotels and had very knowledgeable guides throughout!
We especially enjoyed our visit to the Taj, Elephant ride to a palace in Jaipur, tour of Jewish Mumbai, visiting Bene Israel memorial on coast including synagogues, and then gorgeous goa. Our family fell in love with India and we would go again with Joshua and his team in a heartbeat!!
Joshua and his wife Hannah are exemplary caring people who ensure that your trip is meaningful and full of beautiful memories.

Slide
The tour of Mumbai with Joshua was absolutely amazing. Not only did we view the Jewish sites of Mumbai, we received a detailed and interesting lesson in the Jewish history of Mumbai that was engaging to us as parents but also to our three teenage children. In addition, we were shown Mumbai's main tourist sites as well. We lunched at a fabulous Indian restaurant and were introduced to Thali. Super delicious! We all learned so much and had a fantastic time as well. Thank you Joshua for a memorable day!
Slide
Perfect trip through Delhi, Agra, and Rajasthan!
I have only great things to say about our week-long tour of the Golden Triangle. For context, it was scheduled for the weeks before the 2020 lock-downs started taking effect in earnest around the world. Ritu and the rest of the organizing staff were wonderfully proactive to make sure that all four of us had a wonderful time. Although we didn't meet Joshua in person, we had three other amazing, fun, and informative tour guides on our trip. One in particular, Dilip, went above and beyond to give us a memorable Holi celebration at a time when large public events were unreliable due to the pandemic concerns. I'm very thankful to everyone!
Slide
I used Jewish India Tours in both Mumbai and Cochin, they were the highlight of my trip to India. We visited offbeat and fascinating spots that were unavailable to the public at large. In each place my guides knew people who let us into their homes, or private establishments. Both were extremely knowledgeable about history, with Jewish history in India especially fascinating. Hanna and Saju were prompt, helpful, pleasant and delightful. The drivers were equally skilled ( not easy, especially in Mumbai) and the cars stayed cool despite the heat. They even supplied water!!
I highly recommend this tour company.

Slide
We just spent 2 days touring Mumbai with Hanna. We couldn't have hoped for a better experience! If I lived in Mumbai I would want Hanna as my new best friend! She was delightful to be with, very knowledgeable and professional, and extremely accommodating, adding sights to our trip last minute as we asked about them. She was so warm and caring, making sure we were comfortable and had water. We felt we received such a personal insight into the Jewish community of Mumbai Hanna was so informative and ready to answer any questions we had. She was equally flexible and informative on our day tour of other sights in Mumbai. Hanna, we cant thank you enough for such amazing experiences !
Slide
Joshua is a native of Mumbai and knows his city really well. Being a Jew, native to Mumbai, is a huge treasure to have when touring. He knows all of the spots and then some and can take you to really cool places you could never go alone or without his connections. On top of his expertise, he is just a joy to be around and he is one of the best tour guides I've ever used anywhere in the world!!