Discover Jewish Heritage Tour
Duration: 10 nights/11 days
Delve into Jewish architectural delights, historic synagogues, Jewish structures and sites of importance across far-flung and remote parts of India. Throughout this journey, you will meet members of local Jewish communities to hear their stories firsthand, and visit the synagogues and community institutions that have played an integral role in Jewish life in this fascinating country. A shorter tour for the busy traveler, with highlights of India's best sites and Jewish Heritage, at all an amazing price!
What sets this tour apart
Cost – US$ 2950 per person on Twin sharing​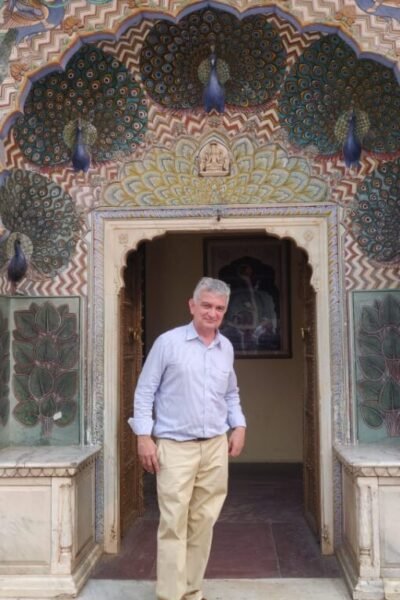 Joshua Shapurkar is a native of Mumbai and a member of the Bene Israel community. He has been a professional guide for more than 30 years.
Full of knowledge and warmth, he has a special way of leading a group and sharing information. His passion for his country and his community shine through.
Joshua's attention to detail and love for his Jewish heritage bring to life the history of the Jewish people of India. During his career as a guide he has guided and managed important delegations for JFNA, AJC and AJDC
Arrive in Delhi and transfer to the hotel. Overnight stay in Delhi.
City tour of Old Delhi features Raj Ghat, the cremation site of Mahatma Gandhi; rickshaw ride; and drive past Red Fort. Tour of New Delhi includes India Gate; Parliament and President's Houses. Explore Humayun's Tomb, said to have inspired the architectural style of the Taj Mahal, and visit to Sikh Temple. Overnight stay in Delhi.
Day 3: Tuesday - Delhi / Agra
Leave by road to Agra (4 hours). Visit the awe-inspiring Taj Mahal, one of the Seven Wonders of the World, built by the emperor Shah Jahan in the 17th century. Enjoy shopping for Agra's exquisite marble crafts. Overnight stay in Agra.
Day 4: Wednesday - Agra / Jaipur
Drive to Jaipur, En route, stop at Agra's Red Fort and Kohinoor, a private museum with an amazing tapestry collection. Visit Fatehpur Sikri on the way. Overnight stay in Jaipur.
Prepare to be awed by the Amber Fort, the ancient citadel of Jaipur's rulers, and ride an elephant! Stop at the city palace and the Jantar Mantar observatory. Take time to shop in this beautiful city, known for textiles, jewelry and carpets. Enjoy cooking demonstration followed by homely Dinner. Overnight stay in Jaipur.
Day 6: Friday - Jaipur / Mumbai
Fly to Mumbai and visit synagogues that reflect the thriving presence of the Bene Israel and Baghdadi Jews: Magen David and Tiphereth Israel. Tour the city of Mumbai: Marvel at the Dhobi Ghat, an immense, colorful outdoor laundry.  Drive past stunning Victorian buildings. Walk through a wholesale vegetable and fruit market.
Enjoy Shabbat services and a sumptuous kosher Indian-Baghdadi dinner with the community at the Kenesseth Eliyahu synagogue. Walk back to the hotel.  Overnight stay in Mumbai.
Walk to the Kenesseth Eliyahu Synagogue for Shabbat services and a gourmet kosher Baghdadi feast. After lunch, optional heritage walk featuring the David Sassoon Library and Prince of Wales Museum with its huge collections of art, archaeology, and natural history (tickets will be purchased in advance). Overnight stay in Mumbai.
Day 8: Sunday - Mumbai / Cochin
Fly to Cochin, on the southern tip of the Indian peninsula. Cochin was once home to another flourishing Jewish community. Today only 26 Jews remain.
Drive to visit the 17th-century Chennamangalam Synagogue and museum. Its close proximity to a Hindu temple, church and mosque highlights India's religious tolerance. Stop at the Parur Synagogue, an architectural gem dating from 1616. Witness Kerala's local life – Enjoy a backwater boat tour through local canals and observe the local way of life in Kerala. Overnight stay in Cochin.
Visit the dramatic Chinese fishing nets and the Saint Francis Church, the burial place of Vasco da Gama, the Portuguese explorer who discovered India. Walk along Jew Street to the exquisite 450-year-old Paradesi Synagogue in Mattancherry; explore the area's antique shops and spice markets. Visit the amazing synagogue in Ernakulam, part of Cochin (it's hidden behind an aquarium and garden shop).  Experience Kathakali dance drama. Overnight stay in Cochin.
Day 10: Tuesday - Cochin / Mumbai
Fly to Mumbai and proceed for a tour of Elephanta Island, a 7th– century Hindu cave and World Heritage site. Overnight stay in Mumbai.
Day 11: Wednesday - Mumbai
Transfer to the Airport for flights home or post-tours.
Varanasi, one of the holiest cities of Hindus, has a fascinating array of shrines, temples and palaces rising in several tiers from the water's edge. It is also a city of fairs and festivals, celebrating about 400 of them during the year. Don't miss the opportunity to visit one of the oldest living cities in the World.
Explore Indian history and culture and delve into local life in the world's most populous democracy. You will visit world-renowned majestic Forts and Royal palaces. Enjoy village safari and Leopard Safari. Taste the authentic flavor of Rajasthani royalty and hospitality at 16th century old Baoli, also known as Step well. 
Day 11: Mumbai – Varanasi
Transfer to airport for flight to Varanasi. Arrival assistance and transfer to the hotel.
Evening tour of Ganges ghats to witness the Aarti ceremony. Overnight at hotel.
Day 12:  Varanasi
Early morning boat excursion on the holy river Ganges to see the bathing ghats and cremation site. Watch people bathing and worshipping at the Ghats—one of the most extraordinary experiences of a visit to India. After breakfast at the hotel, half-day sightseeing tour of the city including the Bharat Mata Temple with a marble relief map of India; Durga Temple, Tulsi Manas Mandir, Banaras Hindu University and art gallery. Afternoon excursion to Sarnath, the buried Buddhist city where Lord Buddha gave his first sermon. Sarnath was a renowned school of learning from the 6th century BCE to the 12th century. Overnight at hotel.
Day 13:  Varanasi – Delhi
Fly to Delhi. Arrive and transfer to the hotel. Overnight at hotel.